Nice, the capital of the French Riviera, was the great love of Matisse
Renoir had Cagnes-sur-Mer, Chagall had St Paul de Vence, Jean Cocteau had Menton, Vallauris and Picasso divided his love for Vallauris and Antibes (but there is a lot to share, Picasso being "vast and containing multitudes").
But between Nice and Matisse, there is something special.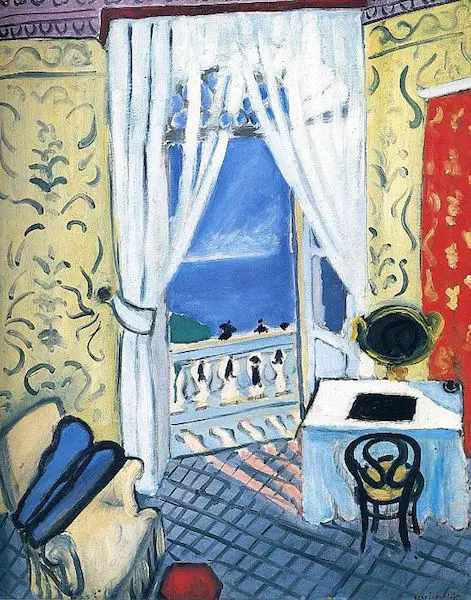 Nice was the love of his life. Matisse came to Nice often, staying at different places at various stages of his life and career (even when he was not yet a household name). Many of his fellow modernists moved to the south when they were in a position to enjoy the fruits of their victories, fruits that included mansions that today would fetch milions of euros.
Where we find Matisse in Nice, however, features relatively modest flats and rooms in tourist hotels.
Here we shall find Matisse in Nice
He first came to Nice in 1917, and the town had him from the first ray of sunshine: "When I realised that I would see this light again every morning," he wrote, "I couldn't believe how lucky I was."
For him, the various blues of the sea and the sky "…. is the blue of sapphires, of the peacock's wing, of an Alpine glacier, and the kingfisher melted together. And yet, it is none of these, for it shines with the unearthly radiance of Neptune's kingdom … it gleams, it is translucent, it shines as if it were lit up from below." Matisse was then a mature man of almost 50, but this is clearly the language of a teenager in love.
First stop was the Hotel Beau Rivage on 107 Quai des Etats Unis …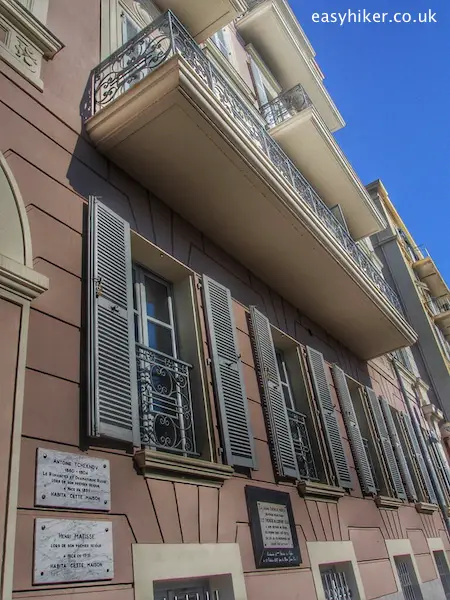 …but he soon moved to an apartment next door, to no. 105, when he decided to stay for the entire winter.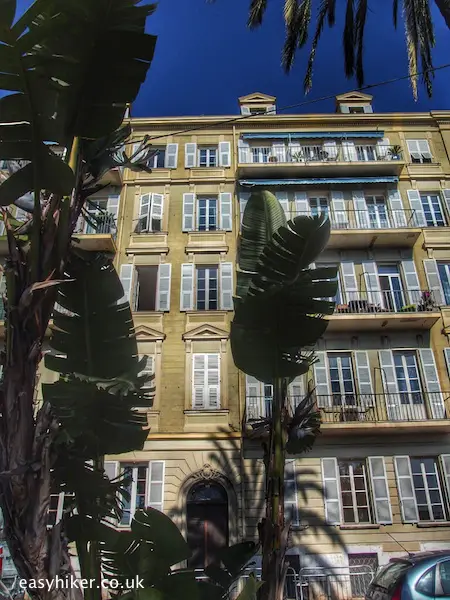 In February 1920, he returned and stayed in the Hotel de la Méditerranée a little further up on 25 Promenade des Anglais, and then again when he came back in September till the end of winter.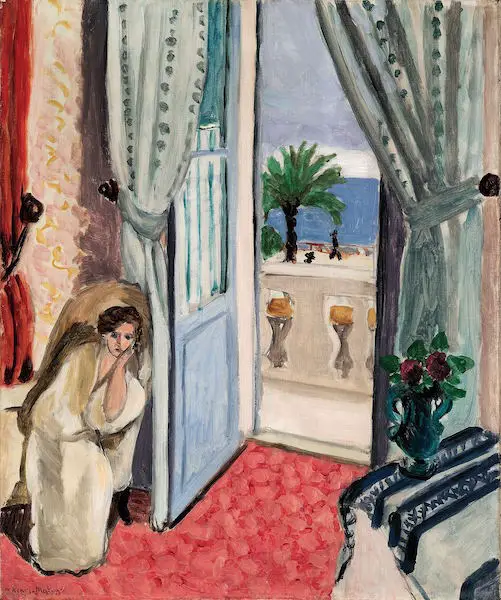 The Hotel Méditerranée of Matisse's time no longer exists, having been torn down in the 1930s. But go up to the 2nd floor coffee bar of the Palais de la Mediterranee – half a block away – to get a Matisse-like view of the beach promenade. (You don't need to cough up €4.50 for a cup of espresso there, though.)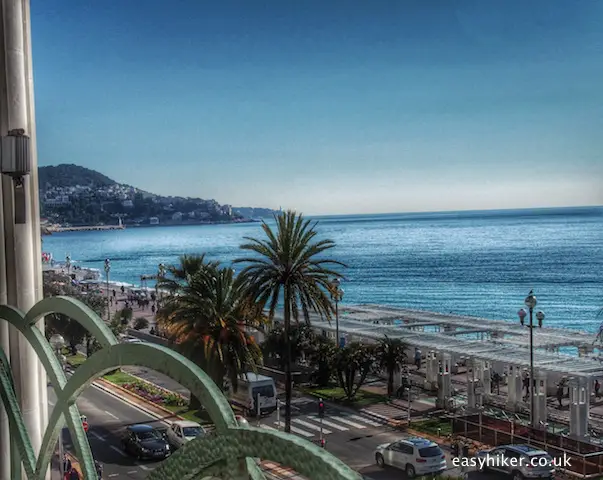 In September 1921, Matisse decided to rent an apartment on the Cours Saleya, taking the fourth floor of the beautiful townhouse on Place Charles Felix.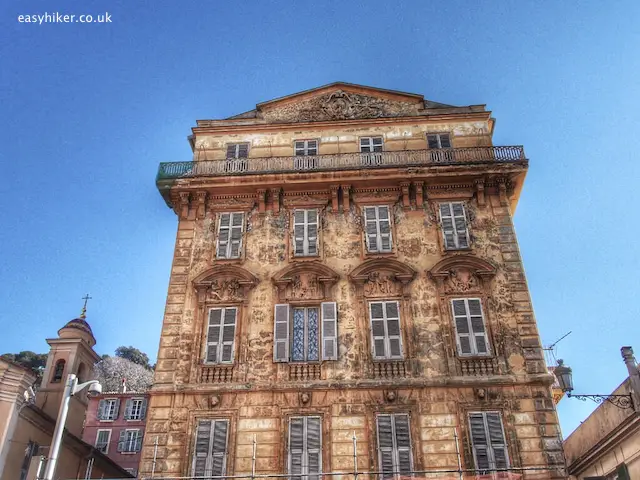 Later, he also rented the 3rd floor which he used as a studio and stayed there until 1938, …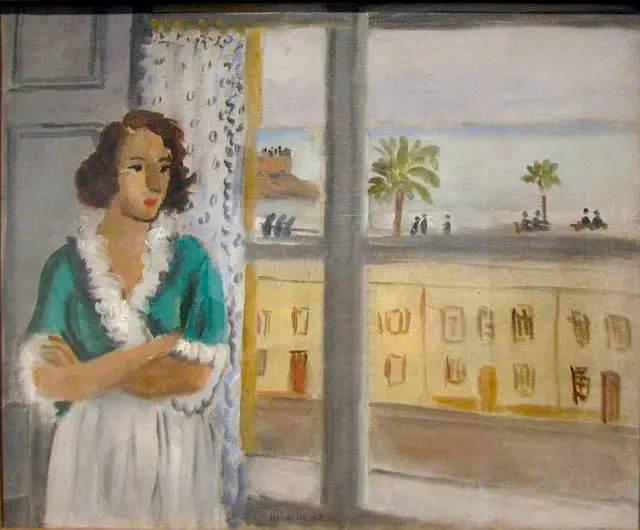 … enjoying the life in the Old Town much better than the glittering atmosphere among the wealthy tourists and ex-pats on the Promenade.
These were the best years of his artistic life, and it appears that Matisse enjoyed the Riviera lifestyle, too. He even became an active outdoorsman. Matisse, well into his 50s at this stage, developed a specific passion for canoeing, paddling around the port of Nice most days of the week.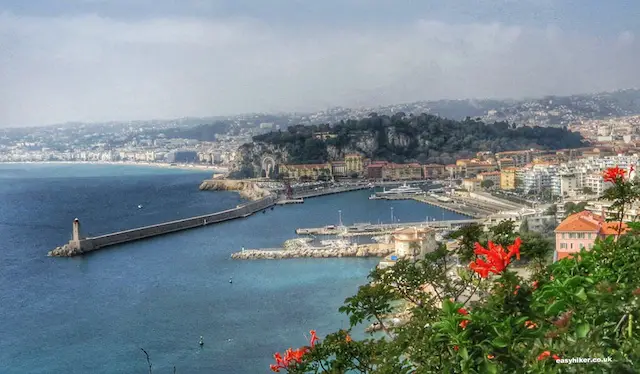 In 1938, Matisse moved up the hill to the Hotel Regina in Cimiez where he would paint more interiors over the next 15 years, this time without Mediterranean views peeping through the open windows.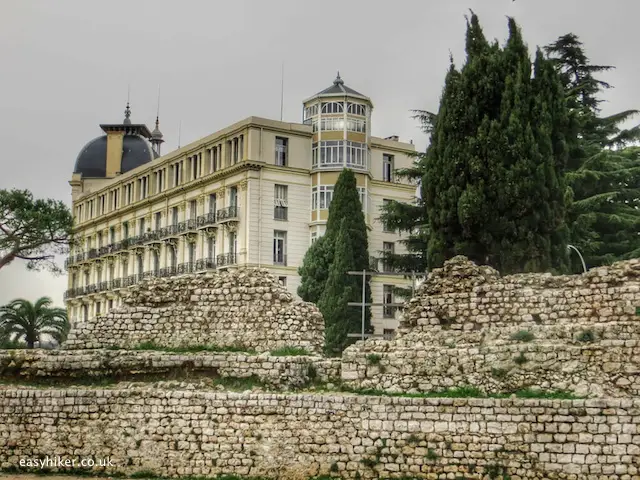 You can either walk or take the bus (lines 15 or 22, calling at Matisse / Arènes), but go you should, for one because there is the Matisse museum next door with the world's largest collections of his works …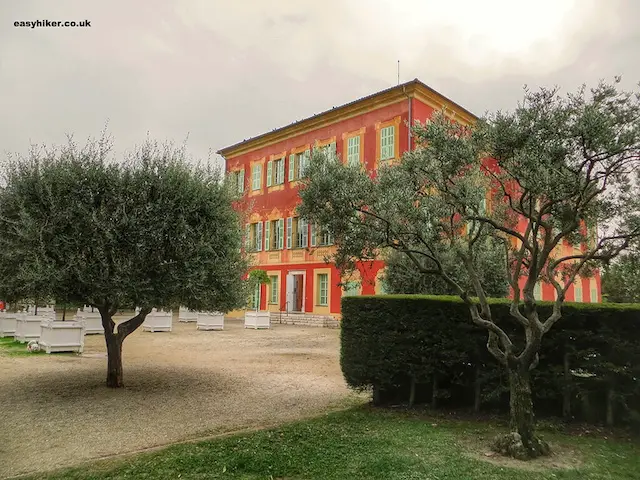 … and for another because this is also where he is buried, next to his wife (from whom he had been separated for the last 15 years of his life), on the cemetery of the near-by Franciscan Monastery.
Considering how long Matisse lived in Nice, how much he loved the city and how deeply it affected his style, it is strange that his footsteps in Nice are almost exclusively biographic in nature: there are no street scenes that one could recreate from his paintings, not even with a lot of imagination.
There is only one half-exception: in 1921, Matisse painted (from the balcony of the Hotel Mediterranee) the Bataille des Fleurs, the traditional Carnival "parade of flowers" …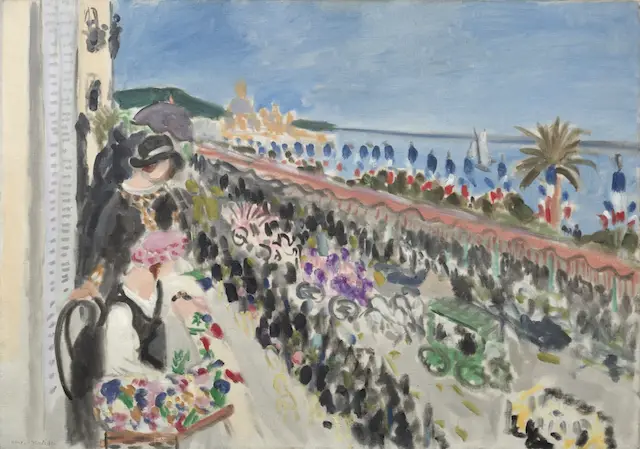 … which even today, in its quieter moments, reflects some of the sweetness that the life in interwar Nice must have had for Matisse. This, at any rate, is probably as close as we can get.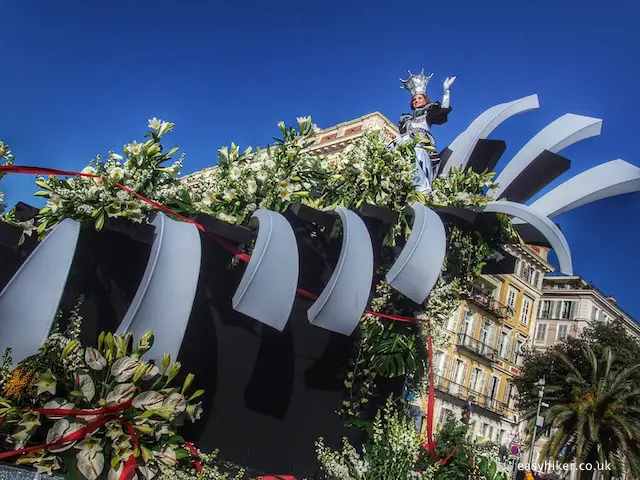 Next time you visit, try to find Matisse in Nice! 
Don't miss our tips for enjoying and getting the most of your holiday in the French and Italian Riviera by subscribing to our free updates via email or by following us on Facebook and Twitter. See our pictures of the Riviera on our Instagram timeline.